Today is Sunday, and it was an absolutely gorgeous fall day. I decided to curtail my brush cutting endeavor, and attended an artists workshop that was advertised (sandwich-board) for 2:30pm at the local village community art center (formerly known as the Russells Mills Library). The old Russells Mills Library, (now art center) located next door to Alderbrook farm, with its 100 plus year old wide beam floors, is a great space to learn about art. And by whom you ask? Well, by none other than our own John Powell, artist, entrepreneur and visionary. My design studio is located just up the road from the art center library in a building that John owns.
This was John's (JP's) first art education series at the art center. I elude to the word series because he's been asked already to continue theses sessions. The creative process symposium is what he titled his frist art session. Below is a definition of the word symposium, I included the official definition so you could get into the mood.
The Symposium (Ancient Greek: Συμπόσιον) is a philosophical text by Plato dated c. 385–380 BC.[1] It concerns itself at one level with the genesis, purpose and nature of love, and (in later day interpretations) is the origin of the concept of Platonic love.
Love is examined in a sequence of speeches by men attending a symposium, or drinking party. Each man must deliver an encomium, a speech in praise of Love (Eros). The party takes place at the house of the tragedian Agathon in Athens. Socrates in his speech asserts that the highest purpose of love is to become a philosopher or, literally, a lover of wisdom. The dialogue has been used as a source by social historians seeking to throw light on life in ancient Athens, in particular upon sexual behavior, and the symposium as an institution.
Most of the people attending were artists of one form or another. JP assigned one of them, Carol, the task of capturing phrases and words, writing them out on a white sheet of paper as the members of the audience called them out.This was being done as JP started to draw on paper. Encouraging us as he drew to think of the creative process, what gets one into his or her creative space, zone etc as we prepare to paint, draw or create.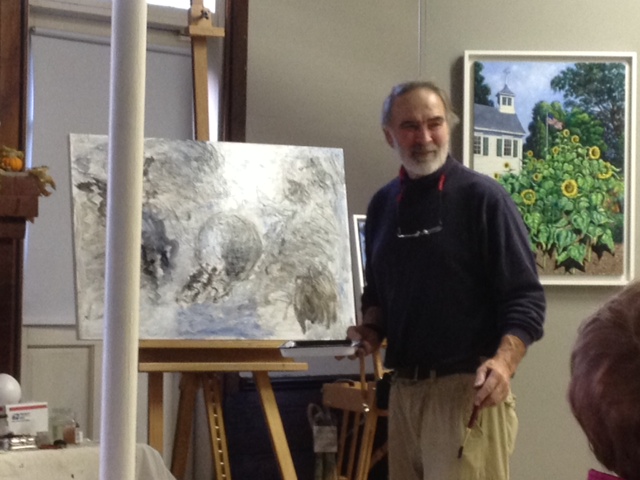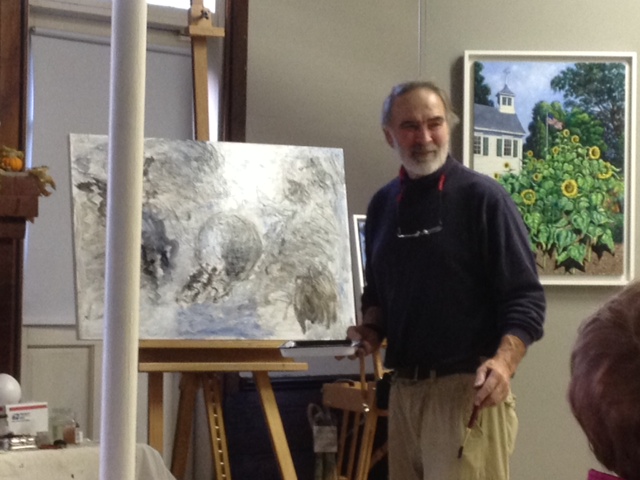 Interesting words surfaced in the session… Critique, Drawing, Passion, Inspiration, Showing up, Doodling, Self Invention, Narrative, Community and Risk just to name a few. There were lots more for sure. It was interesting to see how we "artists" think about the process of art, making it, and what it makes us.
I learned something today that JP often practices, "learning something from our creative peers". I also learned something about JP, he's not afraid of risk and second he has a lot to share. So in the words of Buddha – "When the student is ready, the teacher will appear". Jp appeared for me today at the old Library.
Thanks JP for sharing, JP and God bless!