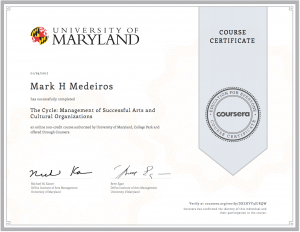 People who know me know I'm a proverbial learner. I've been involved with art organizations and non-profits for years. I heard from our Executive Director about a certified course being offered by the University of Maryland (I'm on the board of my local city museum), it sounded interesting so I took the shot. I figured this course called, Arts and Cultural Organizational Management The Cycle would help me better understand non-profits and with my web marketing consulting at Slocum Studio since we help so many artists and non profits.
One of the interesting points that Michael M. Kaiser (author of The Cycle A Practical Approach to Managing Arts Organizations, co author Brett E. Egan -available for purchase through online sellers as well as through the publisher, University Press of New England) makes, is how sports teams do a superb job of making a compelling product, marketing both the games themselves but also the team as a whole to fans, and making fans feel pat of the effort. Just as Brady, and Mr.Craft repeatedly said at the recent super bowl win. Sorry I'm about 25 minutes from Foxboro home of the Patriots. But to the point, no matter what team you support you do feel a part of the organization. What if your organization had such passionate fans?
The Cycle breaks down art organizational management into 4 categories.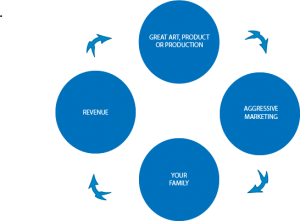 The Cycle can be useful in a variety of organizations I think, not confined to just art.
Produce Great Art, don't sacrifice quality. This is a point they really drill home.
The marketing is broken down into two categories. Programming and Institutional marketing, makes so much sense!
Great art, and marketing produce great interest, from family, this means your organizations family. Which consists of board members, staff, membership, sponsors, friends and family.
DeVos Institute of Arts Management at the University of Maryland point out that the cycle is not only helpful for performing and presenting organizations, but also for arts schools, nonprofits and service organizations including advocacy organizations, historical societies, ministries and much much more.